Declaration
TIESlippyMap = class(TIEVirtualBitmapProvider);


Description
Slippy Map is a term referring to the main openstreetmap.org map display, a web interface for browsing rendered OpenStreetMap data (from openstreetmap wiki).
For more detail:
wiki.openstreetmap.org/wiki/Slippy_Map
TIESlippyMap is a virtual image provider for
TIEBitmap
objects. Selecting a position using Latitude and Longitude a map (an image) will be loaded and handled as TIEBitmap content.
Local caching is provided to speed up re-loading tiles and to support off-line jobs.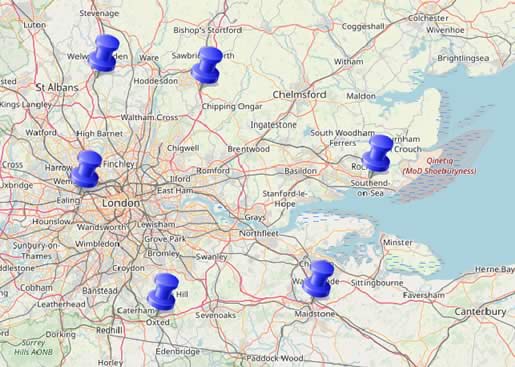 Demo
Example
ImageEnView1.IEBitmap.VirtualBitmapProvider := TIESlippyMap.Create();
with TIESlippyMap(ImageEnView1.IEBitmap.VirtualBitmapProvider) do
begin
// move to London
Latitude := 51.503614574056016;
Longitude := -0.12774750793460043;
// location at bitmap center
PointPosition := Point(ImageEnView1.IEBitmap.Width div 2, ImageEnView1.IEBitmap.Height div 2);
// zoom
Zoom := 14;
end;
ImageEnView1.Update();

// Save an image with pins drawn for GPS coordinates
const
Pin_Width = 40;
Pin_Height = 40;
var
i: integer;
idx: integer;
lat, lon: double;
x, y: integer;
fn: string;
begin
// Prompt for a filename
fn := ImageEnView1.IO.ExecuteSaveDialog();
if fn = '' then
exit;

// Hide changes from view
ImageEnView1.LockUpdate();
try

// Add pins as shape layers
for i := 0 to ImageEnMView1.MultiSelectedImagesCount - 1 do
begin
idx := ImageEnMView1.MultiSelectedImages[i];
lat := ImageEnMView1.MIO.Params[idx].EXIF_GPSLatitude;
lon := ImageEnMView1.MIO.Params[idx].EXIF_GPSLongitude;
x := map.LongitudeToBmpX(lon);
y := map.LatitudeToBmpY(lat);

ImageEnView1.LayersAdd( iesPinLeft, x, y - Pin_Height, Pin_Width, Pin_Height );
end;

// Save current image + layers to file
ImageEnView1.LayersSaveMergedTo( fn );

// Clean up
ImageEnView1.LayersClear(False);

finally
// Reenable ImageEnView1
ImageEnView1.UnlockUpdate();
end;
end;


Methods and Properties
Constructor
Generic Rendering
TIEVirtualBitmapProvider rendering
Multithreading and Cache
Map Coordinates and Zooming
Coordinates Conversion
Other
---