Declaration
property TextOffsetY: Double;


Description
Shifts the drawing of text up or down.
TextOffsetY
is a percentage value with positive and negative values, so -0.10, moves the text up 10% of the layer height. 0.50 will shift halfway down.
Note: There is no checking to ensure text is validly drawn using
TextOffsetY
. I.e. Extreme values may cause the text to not be visible.
Default: 0
Examples
// Draw text bubble and position text within it
TIETextLayer( ImageEnView1.CurrentLayer ).BorderShape := iesSpeechBubbleLeftOutShort;
TIETextLayer( ImageEnView1.CurrentLayer ).TextOffsetY := -0.18;
ImageEnView1.Update();

// Add a "Shape" layer with vertically offset text
ImageEnView1.LayersAdd( ielkText, 200, 200, 230, 200 );
ImageEnView1.CurrentLayer.AspectRatioLocked := True;
TIETextLayer( ImageEnView1.CurrentLayer ).BorderShape := iesHeart;
TIETextLayer( ImageEnView1.CurrentLayer ).BorderWidth := 0;
TIETextLayer( ImageEnView1.CurrentLayer ).BorderColor := clNone;
TIETextLayer( ImageEnView1.CurrentLayer ).FillColor := $004646FF;
TIETextLayer( ImageEnView1.CurrentLayer ).Font.Style := [fsBold];
TIETextLayer( ImageEnView1.CurrentLayer ).Alignment := iejCenter;
TIETextLayer( ImageEnView1.CurrentLayer ).Layout := ielCenter;
TIETextLayer( ImageEnView1.CurrentLayer ).WordWrap := False;
TIETextLayer( ImageEnView1.CurrentLayer ).Text := 'I Heart Delphi';
TIETextLayer( ImageEnView1.CurrentLayer ).Font.Size := 22;
TIETextLayer( ImageEnView1.CurrentLayer ).TextOverflow := ieoShrink;
TIETextLayer( ImageEnView1.CurrentLayer ).TextOffsetY := -0.15;
ImageEnView1.Update();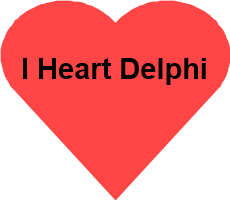 See Also
-
VertMargin
-
TextOffsetX
-
AutoSize
---