Declaration
function TIOParamsHelper.ReadFrom(ASource: TObject; MetaType: TIEMetaType): Boolean;


Description
Writes changes to meta-data values in a TListView or TStringGrid values back to a
params
object.
Result is true if the data has changed (meaning the file has changed and should be saved.
The control must have been filled using
WriteTo
.
Only iemEXIF and iemIPTC are supported. Other meta-types will raise an exception.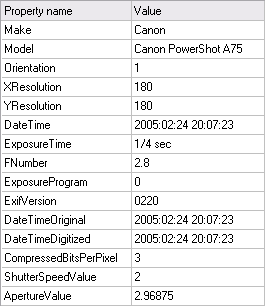 You can also use the in-built meta-data control,
TIEMetaListView
.
Notes:
- A standard TListView does not permit editing of subitems, so either use
TIEMetaListView
, download a TListView descendent, or search for code snippets for "Edit Subitems TListView"
- You must add iexMetaHelpers to your uses clause to access this property
- MetaType cannot be iemDICOM. Use
TIEMetaListView
for Dicom tag editing
- Delphi/C++ 2005 or newer is required
Demos
| | |
| --- | --- |
| | Demos\InputOutput\Exif\Exif.dpr |
| | Demos\InputOutput\Iptc\Iptc.dpr |
Examples
// Display EXIF properties into a TStringGrid and allow user to edit them
ImageEnView1.IO.Params.WriteTo( StringGrid1, iemEXIF );
StringGrid1.Options := Options + [goEditing];
...
// Write changes to EXIF properties of the current image, and prompts the user to save changes if any fields were modified
if ImageEnView1.IO.Params.ReadFrom( StringGrid1, iemEXIF ) then
PromptToSaveFile();

// Write changes to IPTC properties of the current image, and prompts the user to save changes if any fields were modified
if ImageEnView1.IO.Params.ReadFrom( ListView1, iemIPTC ) then
PromptToSaveFile();


Compatibility Notes
ReadFrom
replaces the following deprecated methods:
| Old Method | Old Code Example | New Code Example |
| --- | --- | --- |
| WriteGridToEXIF | StringGrid1.WriteGridToEXIF( ImageEnView1.IO.Params ); | ImageEnView1.IO.Params.ReadFrom( StringGrid1, iemEXIF ); |
| WriteListToEXIF | ListView1.WriteListToEXIF( ImageEnView1.IO.Params ); | ImageEnView1.IO.Params.ReadFrom( ListView1, iemEXIF ); |
| WriteGridToIPTC | StringGrid1.WriteGridToIPTC( ImageEnView1.IO.Params ); | ImageEnView1.IO.Params.ReadFrom( StringGrid1, iemIPTC ); |
| WriteListToIPTC | ListView1.WriteListToIPTC( ImageEnView1.IO.Params ); | ImageEnView1.IO.Params.ReadFrom( ListView1, iemIPTC ); |
| ReadListFromDicom | ListView1.ReadListFromDicom( ImageEnView1.IO.Params, [ diProprietary, diChildTags ]); | ImageEnView1.IO.Params.WriteTo( ListView1, iemDICOM, [ diProprietary, diChildTags ]); |
---