Declaration
property IsMask: Boolean;


Description
If True, this is a layer mask. A layer mask specifies what parts of the layer below are visible (i.e. mask pixels of 0 will hide the underlying image. Whereas, pixels of 255 will be fully visible).
Layer masks only affect the layer below (i.e. if Layer 3 is a mask, then its effect will only apply to layer 2).
Any type of layer can be used as a layer mask.
For
image layers
, the TIELayer.
Bitmap
must be a gray scale image (ie8g). Pixels that are black (0) will mask/hide pixels in the associated layer. Gray pixels will be partially masked (semi-transparent). White pixels (255) will be fully visible.
For other layer types, such as
shape layers
, the fill and border colors will specify the level of masking. Black will be fully masked, whereas a mid-gray ($00808080) will provide 50% masking. Transparent areas will have no masking.
This is an example of a mask image (right-click to save to file). The black areas will become fully transparent in the underlying image. The gray will have 50% transparency and the white will be fully opaque.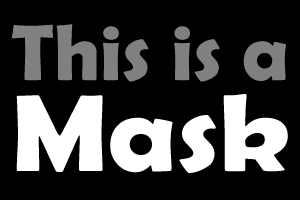 Default: False
Note:
- A layer mask
must be invisible
to take effect (
Visible
=False)
- You can invert the mask by setting
MaskInverted
:= True;
- You can also use the
LayersAdd
mask overload to quickly add a shape mask layer
Demo
| | |
| --- | --- |
| | \Demos\LayerEditing\LayerMask\LayerMask.dpr |
Example 1
// Clear and load our image into Layer 0
ImageEnView1.ClearAll();
ImageEnView1.IO.LoadFromFile( 'C:\Image.jpg' );

// Now add our mask layer
ImageEnView1.LayersAdd( ielkImage );
ImageEnView1.IO.LoadFromFile( 'C:\Mask.png' );
TIEImageLayer( ImageEnView1.CurrentLayer ).IsMask := True;
ImageEnView1.CurrentLayer.Visible := False;
ImageEnView1.CurrentLayer.PosX := 0;
ImageEnView1.CurrentLayer.PosY := 0;
ImageEnView1.CurrentLayer.Width := ImageEnView1.Layers[0].Width;
ImageEnView1.CurrentLayer.Height := ImageEnView1.Layers[0].Height;

Source Image: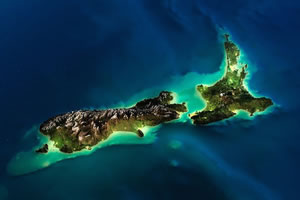 Mask Image: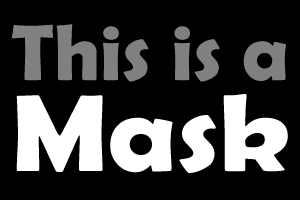 Result (on a white TImageEnView):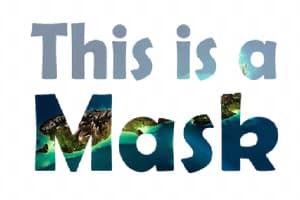 Shape Layer Examples
// Create a star shape mask
ImageEnView1.LayersInsert( ImageEnView1.LayersCurrent + 1, iesStar5 );
ImageEnView1.CurrentLayer.FillColor := $00808080; // 50% masking, as 128 = 80 hex)
ImageEnView1.CurrentLayer.BorderWidth := 0;
ImageEnView1.CurrentLayer.IsMask := True;
ImageEnView1.CurrentLayer.MaskInverted := True;
ImageEnView1.CurrentLayer.Visible := False;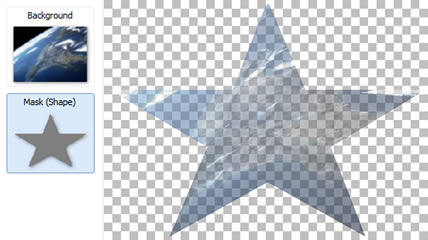 // Create an explosion with a gradient mask that radiates out
ImageEnView1.LayersInsert( ImageEnView1.LayersCurrent + 1, iesExplosion );
ImageEnView1.CurrentLayer.FillGradient := gpgDiagCenter;
ImageEnView1.CurrentLayer.FillColor2 := clBlack; // 100% masking
ImageEnView1.CurrentLayer.FillColor := clWhite; // 0% masking
ImageEnView1.CurrentLayer.BorderWidth := 0;
ImageEnView1.CurrentLayer.IsMask := True;
ImageEnView1.CurrentLayer.MaskInverted := True;
ImageEnView1.CurrentLayer.Visible := False;

// Create a diamond with solid border
ImageEnView1.LayersInsert( ImageEnView1.LayersCurrent + 1, iesDiamond );
ImageEnView1.CurrentLayer.FillColor := $00808080; // 50% masking, as 128 = 80 hex)
ImageEnView1.CurrentLayer.BorderWidth := 30;
ImageEnView1.CurrentLayer.BorderColor := clBlack; // 100% masking
ImageEnView1.CurrentLayer.IsMask := True;
ImageEnView1.CurrentLayer.MaskInverted := True;
ImageEnView1.CurrentLayer.Visible := False;


Example 2
// Convert a star shape layer to an image mask
var
prevLayer: TIELayer;
begin
// Create a star shape, Fill area will be black for now
ImageEnView1.LayersInsert( ImageEnView1.LayersCurrent + 1, iesStar5 );
ImageEnView1.CurrentLayer.FillColor := clBlack;
ImageEnView1.CurrentLayer.BorderWidth := 0;

// Convert shape layer to an image layer
ImageEnView1.CurrentLayer.ConvertToImageLayer( 1 );

// Make 256 color and negative (so black becomes white transparency)
TIEImageLayer( ImageEnView1.CurrentLayer ).Bitmap.PixelFormat := ie8g;
ImageEnView1.Proc.Negative();

// Set this layer as a mask
ImageEnView1.CurrentLayer.IsMask := True;

// Layer must be hidden to work as mask
ImageEnView1.CurrentLayer.Visible := False;

// Make it the cover the underlying image
prevLayer := ImageEnView1.Layers[ ImageEnView1.LayersCurrent - 1];
ImageEnView1.CurrentLayer.PosX := prevLayer.PosX;
ImageEnView1.CurrentLayer.PosY := prevLayer.PosY;
ImageEnView1.CurrentLayer.Width := prevLayer.Width;
ImageEnView1.CurrentLayer.Height := prevLayer.Height;
end;


Example 3
// Add a mask layer (to the top-most image layer) which is transparent at the top and opaque at the bottom
ImageEnView1.LayersInsert( ImageEnView1.LayersCurrent + 1, 0, 255, gpgVertical );

// Which is the same as...

ImageEnView1.LayersInsert( ImageEnView1.LayersCurrent + 1, iesRectangle );
ImageEnView1.CurrentLayer.FillGradient := gpgVertical;
ImageEnView1.CurrentLayer.FillColor := clWhite; // 0% masking
ImageEnView1.CurrentLayer.FillColor2 := clBlack; // 100% masking
ImageEnView1.CurrentLayer.BorderWidth := 0;
ImageEnView1.CurrentLayer.MaskInverted := True;
ImageEnView1.CurrentLayer.IsMask := True;
ImageEnView1.CurrentLayer.Visible := False;

// Make it the cover the underlying image
prevLayer := ImageEnView1.Layers[ ImageEnView1.LayersCurrent - 1];
ImageEnView1.CurrentLayer.PosX := prevLayer.PosX;
ImageEnView1.CurrentLayer.PosY := prevLayer.PosY;
ImageEnView1.CurrentLayer.Width := prevLayer.Width;
ImageEnView1.CurrentLayer.Height := prevLayer.Height;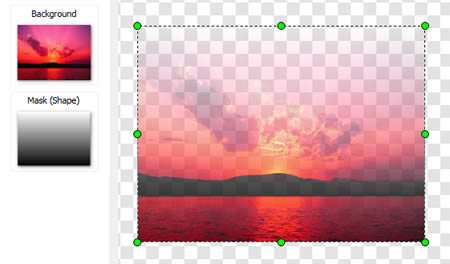 Example 4
// Add an elliptical mask to image layer 2 (i.e. to make the image circular)
ImageEnView1.LayersInsert( 3, iesEllipse );
ImageEnView1.CurrentLayer.FillColor := clBlack;
ImageEnView1.CurrentLayer.ClientAreaBox := ImageEnView1.Layers[2].ClientAreaBox;
ImageEnView1.CurrentLayer.IsMask := True;
ImageEnView1.CurrentLayer.MaskInverted := True;
ImageEnView1.CurrentLayer.Visible := False;
ImageEnView1.Update();

---