Declaration
TIETextLayer = class;


Description
TImageEnView
supports layer editing, allowing your users to build complex images from text, shapes, lines, polygon and other images, and merge them. All layer types can be created, resized, rotated and moved, either programatically or by your end-user.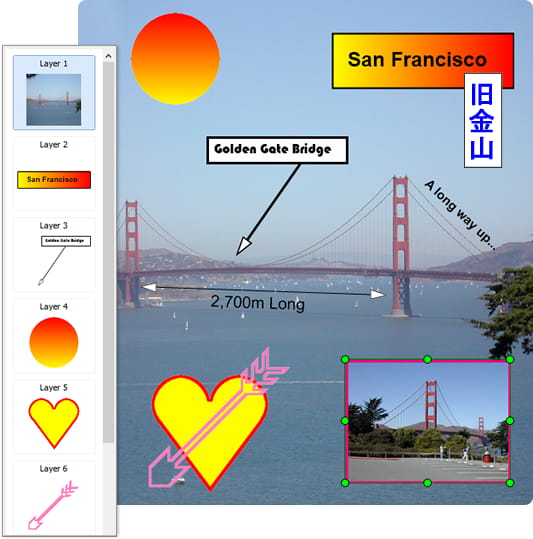 Note: If you are transitioning your code from
TImageEnVect Objects
to TIELayers, read
our transition guide
.
Loading and Saving
Standard image types such as JPEG and BMP, do not support layers, so to preserve your layer information you will need to use one of the following formats:
- ImageEn Native Format (*.ien): Maintains all layer information. Supported only by ImageEn (
Loading
and
Saving
)
- Photoshop (*.psd): Widely used layer format. Only image layers are supported; non-image layers will be converted when saving (
Loading
and
Saving
)
- Scalable Vector Graphics (*.svg): Vector image format for web browsers (
Saving
only)
- Adobe PDF document (*.pdf): Scalable document format (
Saving
only)
Overview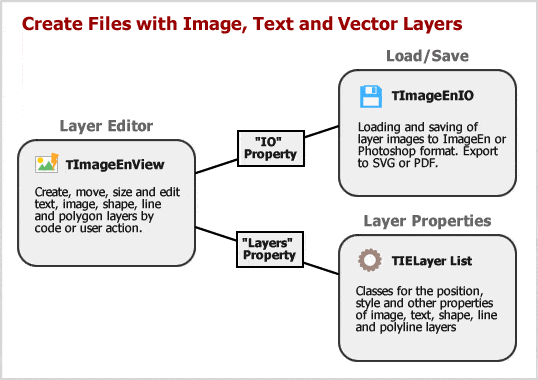 Layer Types
TIELayer
is the ancestor of all layer classes:
Layer Insertion and Editing
Layers can be inserted programatically using
LayersAdd
or
LayersInsert
, and manipulated using
CurrentLayer
or
Layers
.
You can also allow your users to add and edit layers using
Mouse Interactions
, such as
mlCreateImageLayers
and
mlClickCreatePolylineLayers
.
The following keyboard shortcuts are also available (if loKeyboardShortcuts is included in
LayerOptions
):
These shortcuts can be configured or disabled using
KeyboardShortcuts
. Also, the effect of the Ctrl, Alt and Shift modifiers can be configured with
ShiftKeyLock
Layer Components
You can preview and manipulate the layers in a TImageEnView using
TImageEnLayerMView
.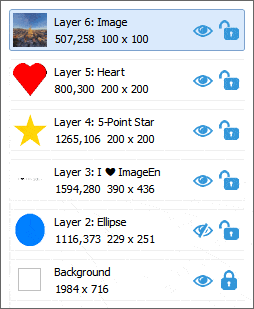 You can display and edit properties of the current layer using
TIELayerProps
.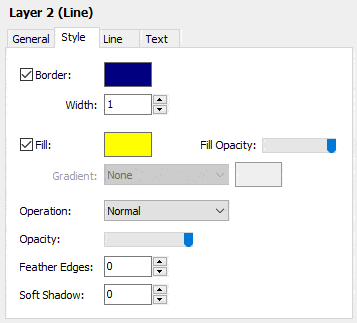 Demos
Examples
ImageEnView1.LayersAdd( ielkImage ); // Append an image layer
ImageEnView1.IO.LoadFromFile('C:\image.jpg'); // Load image into the new/active layer


// Add a yellow explosion shape layer at size 220 x 120
ImageEnView1.LayersAdd( iesExplosion, 50, 50, 220, 120 );
ImageEnView1.CurrentLayer.FillColor := clYellow;
ImageEnView1.CurrentLayer.BorderWidth := 0;
ImageEnView1.Update();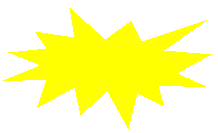 // Append an image layer and assign a pink border
ImageEnView1.LayersAdd( ielkImage ); // Append an image layer
ImageEnView1.IO.LoadFromFile('C:\New Zealand.jpg'); // Load image into the new/active layer
ImageEnView1.CurrentLayer.BorderColor := $008000FF;
ImageEnView1.CurrentLayer.BorderWidth := 3;






// Allow users to create image layers. Prompt for an image file after selection
ImageEnView1.LayerOptions := ImageEnView1.LayerOptions + [ loAutoPromptForImage ];
ImageEnView1.MouseInteractLayers := [ mlCreateImageLayers ];


// Allow user to move and resize layers (allow multiple layer selection and ensure masks are moved with layers)
ImageEnView1.LayerOptions := ImageEnView1.LayerOptions + [ loAllowMultiSelect, loAutoSelectMask ];
ImageEnView1.MouseInteractLayers := [ mlMoveLayers, mlResizeLayers ];

A selected text layer with resize grips:





// Allow user to rotate layers
// Enable multiple layer selection, ensure masks are moved with layers and show a rotation grip
ImageEnView1.LayerOptions := ImageEnView1.LayerOptions + [ loAllowMultiSelect, loAutoSelectMask, loShowRotationGrip ];
ImageEnView1.MouseInteractLayers := [ mlRotateLayers ];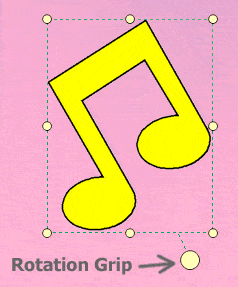 // Allow the user to create, size and rotate red arrows
ImageEnView1.LayerOptions := ImageEnView1.LayerOptions + [ loShowRotationGrip ];
ImageEnView1.MouseInteractLayers := [ mlCreateLineLayers, mlMoveLayers, mlResizeLayers, mlRotateLayers ];
ImageEnView1.LayerDefaults.Clear();
ImageEnView1.LayerDefaults.Values[ IELP_LineColor ] := 'clRed';
ImageEnView1.LayerDefaults.Values[ IELP_LineWidth ] := '6';
ImageEnView1.LayerDefaults.Values[ IELP_LineShapeSize ] := '20';
ImageEnView1.LayerDefaults.Values[ IELP_LineStartShape ] := '1';
ImageEnView1.LayerDefaults.Values[ IELP_Rotate ] := '235';

Allow user to create star shapes at preferred aspect ratio
ImageEnView1.LayersResizeAspectRatio := iearAlways;
IEGlobalSettings().DefaultLayerShape := iesStar5;
ImageEnView1.MouseInteractLayers := [ mlCreateShapeLayers ];


// Allow user to draw a polygon
ImageEnView1.LayersAutoClosePolylines := iecmAlways;
ImageEnView1.MouseInteractLayers := [ mlClickCreatePolylineLayers ];


// Allow users to create and edit a polyline
ImageEnView1.LayersAutoClosePolylines := iecmManual;
ImageEnView1.MouseInteractLayers := [ mlClickCreatePolylineLayers, mlEditLayerPoints ];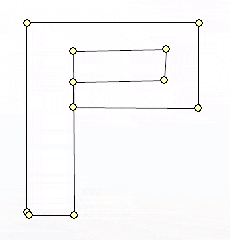 // Allow users to edit a polyline. Hold Alt key to turn line into a curve
ImageEnView1.MouseInteractLayers := [ mlEditLayerPoints ];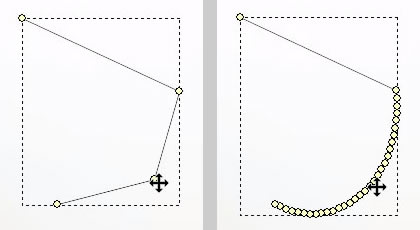 // Draw a Smiley Face

// make layer lines thicker
ImageEnView1.LayerDefaults.Values[ IELP_BorderWidth ] := '10';
ImageEnView1.LayerDefaults.Values[ IELP_FillColor ] := 'clWhite';

// LEFT EYE
// Add an ellipse shape layer
ImageEnView1.LayersAdd( iesEllipse, 100, 100, 30, 30 );

// RIGHT EYE
// Add an ellipse shape layer
ImageEnView1.LayersAdd( iesEllipse, 170, 100, 30, 30 );

// SMILE
// Add a line layer
ImageEnView1.LayersAdd( Point( 100, 150 ), Point( 200, 150 ));

// Curve it
TIELineLayer(ImageEnView1.CurrentLayer).Curve := 1;

// Show changes
ImageEnView1.Update();



Methods and Properties
General
Style
Size and Position
Measurement

Provides generic access to properties in descendent classes
See Also
-
LayersAdd
-
LayersInsert
-
TIELayerKind
-
MouseInteractLayers
-
LayerOptions
---