Declaration
property Rotate: Double;


Description
Specifies the layer rotation angle in degrees counter-clockwise.
Rotation and Resize cannot be used at the same time.
To allow resize after a layer rotation, it must be enacted, i.e. actually rotate the bitmap.
Conversely to allow rotation after a resize, the resizing must be enacted, actually resizing the bitmap.
To enact layer rotation, call
LayersFixRotations
.
To enact layer resizing, call
LayersFixSizes
.
Finally, multiple rotations can cause the bitmap to add an external, transparent border. To remove this border call
LayersFixBorders
.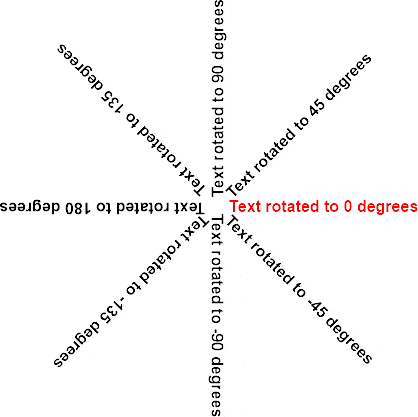 Note:
- When rotation is handled by
MouseInteractLayers
(setting mlRotateLayers), you don't need to call LayersFixRotations, LayersFixSizes and LayersFixBorders.
- For Text layers,
Rotate
specifies the rotation of the text only. To rotate the border shape, set
BorderRotate
- For angle layers,
Rotate
updates the start and end angles, which can lead to inaccuracy if frequently set, so you are better to directly use
StartAngle
,
EndAngle
or
SweepAngle
Demos
| Demo | Description | Demo Project Folder | Compiled Demo |
| --- | --- | --- | --- |
| Layer Rotation | Free rotation and resizing of layers using mouse interactions | LayerEditing\RotateLayers\RotateLayers.dpr | |
| All Layer Editing | Usage of image, shape, text, polygon and line layers | LayerEditing\Layers_AllTypes\Layers.dpr | |
| Image Layer Editing | Usage of image layers | LayerEditing\Layers_Images\Layers.dpr | |
| Adding Text to Images | Draw text onto images using text layers | LayerEditing\Layers_TextOut\TextLayers.dpr | |
Examples
// Rotate a line
ImageEnView1.CurrentLayer.Rotate := 235;
ImageEnView1.Update();





// Set rotation of all selected layers
ImageEnView1.LockUpdate;
for i := 0 to ImageEnView1.LayersCount - 1 do
if ImageEnView1.Layers[i].Selected then
ImageEnView1.Layers[i].Rotate := 90;
ImageEnView1.LayersFixRotations( LYR_SELECTED_LAYERS );
ImageEnView1.UnlockUpdate;

// Apply a "Paid" stamp to image
with ImageEnView1 do
begin
LayersAdd( 'PAID', 42, clRed, 'Arial Black', [fsBold] );
CurrentLayer.Rotate := 30;
TIETextLayer( CurrentLayer ).SizeToText();
CurrentLayer.PosX := IELayer_Pos_HCenter;
CurrentLayer.PosY := IELayer_Pos_VCenter;
LayersMergeAll();
end;


See Also
-
LayersRotateAll
-
LayersTextRotateMode
-
SupportsFeature
-
RotateCenterX
-
RotateCenterY
-
Flip
---