Declaration
TIEVisionOCR = interface(TIEVisionBase)


Description
This interface allows you to perform basic OCR (Optical Character Recognition) in English and
100+ other languages
.
It is possible to recognize a specific image area or the whole image.
For recognition it means:
- Get the ANSI or Unicode
text
from a raster image
- Estimate the document
orientation
(text angle)
- Get each recognized
character position
(bounding box)
- Get
text regions
(to reproduce text layout)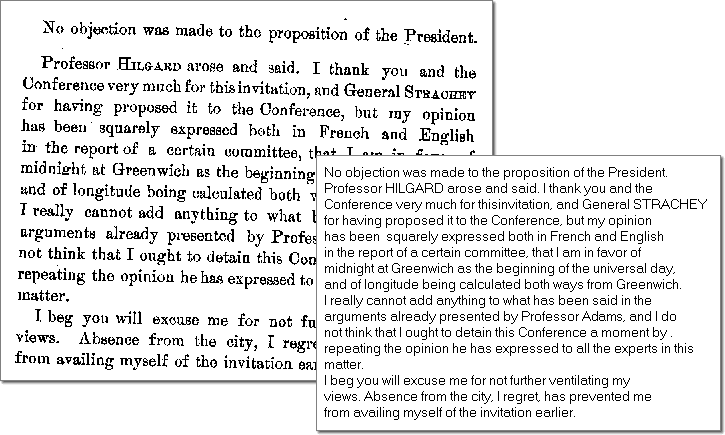 To change the language of OCR, specify the path of the language file when calling IEVisionLib.createOCR. You can download language files from:
www.imageen.com/download/
Note: Only one single instance of this object can exist in your application.
Demos
| | |
| --- | --- |
| | Demos\IEVision\OCR\OCR.dpr |
| | Demos\IEVision\OCRwithLayout\OCRwithLayout.dpr |
Examples
OCR := IEVisionLib.createOCR(IEOCRLanguageList[OCR_English_language].Code);
str := OCR.recognize(ImageEnView1.IEBitmap.GetIEVisionImage(), IEVisionRect(0, 0, 0, 0)).c_str();

OR

sLanguage := 'fra'; // French
if FileExists( IncludeTrailingPathDelimiter( ExtractFilePath( Application.ExeName )) + sLanguage + '.traineddata' ) = False then
raise Exception.create( 'Language file not found' );
OCR := IEVisionLib.createOCR( sLanguage );
str := OCR.recognize(ImageEnView1.IEBitmap.GetIEVisionImage(), IEVisionRect(0, 0, 0, 0)).c_str();

OR for multiple languages:

var
langs: TIEVisionVectorString;
langs := IEVisionLib.createVectorString();
langs.push_back( IEOCRLanguageList[ OCR_English_language ].Code ); // load English
langs.push_back( IEOCRLanguageList[ OCR_Italian_language ].Code ); // load Italian
m_OCR := IEVisionLib.createOCR( '', langs );
str := m_OCR.recognize(ImageEnView1.IEBitmap.GetIEVisionImage(), IEVisionRect(0, 0, 0, 0)).c_str();


Methods and Properties
See Also
---