Declaration
property BottomGap: integer;


Description
Specifies the distance between the thumbnail image and its bottom border.
If -1 is specified, then
BottomGap
will use the value of
UpperGap
.
You can use BottomGap to reserve space for painting, e.g. custom text (with
OnImageDraw
).
Default: 0 (but is changed by calls to
SetModernStyling
)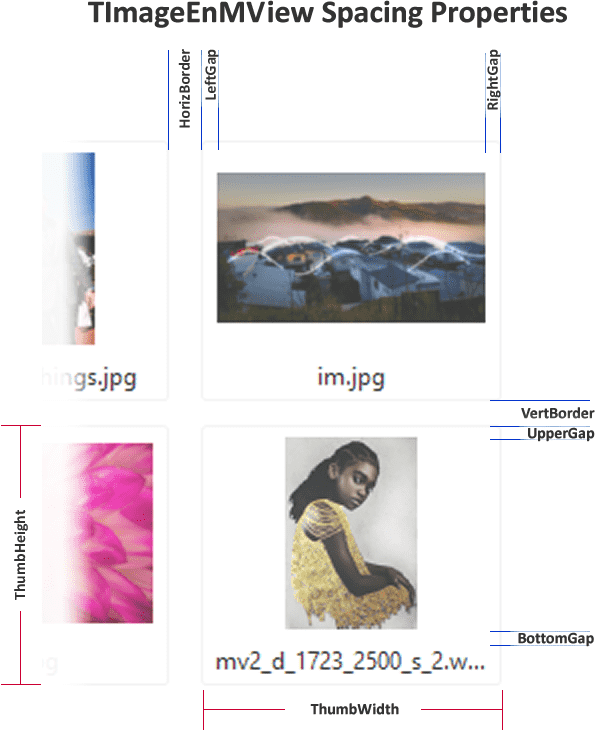 Compatibility Notes
In older versions, BottomGap would be internally increased to allow space for
bottom text
. This does not occur from v6.22.
To maintain consistent styling, a BottomGap of more than twelve is assumed to include text space (i.e. If BottomGap <= 12: ActualGap = BottomGap + Text_Height. If BottomGap > 12: ActualGap = BottomGap Only).
Example
// Add six pixel gap on all sides of thumbnail
ImageEnMView1.UpperGap := 6;
ImageEnMView1.BottomGap := -1; // inherit
ImageEnMView1.LeftGap := -1; // inherit
ImageEnMView1.RightGap := -1; // inherit

// Add 6 pixel gap on sides and 4 pixels above and below
ImageEnMView1.UpperGap := 4;
ImageEnMView1.BottomGap := -1; // inherit
ImageEnMView1.LeftGap := 6;
ImageEnMView1.RightGap := -1; // inherit

// Add custom gaps on all sides
ImageEnMView1.UpperGap := 4;
ImageEnMView1.BottomGap := 10;
ImageEnMView1.LeftGap := 6;
ImageEnMView1.RightGap := 5;


See Also
-
UpperGap
-
LeftGap
-
RightGap
---