Declaration
property TextColumnWidths[Col : TIEMTextPos] : Integer;


Description
Specifies the width of each column when
Style
is set to
iemsColumns
.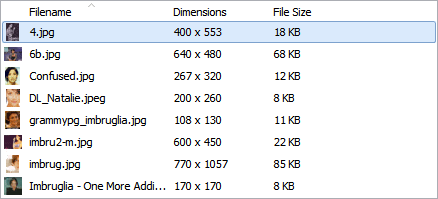 With the
iemsColumns
display style, data is shown in four columns:
- Thumbnail
-
DefaultTopText
-
DefaultBottomText
-
DefaultInfoText
The width of the thumbnail is set by
ThumbWidth
whereas the width of each column can be specified by
TextColumnWidths
. If a column width is set to -1, then it will be automatically calculated.
TextColumnWidths
set to zero will be hidden (also if the
text
is set to iedtNone).
Notes:
- Column widths will automatically be adjusted if they are too wide to fit in the available area
- Users can also manually resize column widths by clicking the header area with the mouse
Examples
// Display to the full width of the control with each column width auto-calculated
ImageEnMView1.LockUpdate();
ImageEnMView1.Style := iemsColumns;
ImageEnMView1.TextBlockWidth := -1;
ImageEnMView1.TextColumnWidths[ iemtpTop ] := -1;
ImageEnMView1.TextColumnWidths[ iemtpBottom ] := -1;
ImageEnMView1.TextColumnWidths[ iemtpInfo ] := -1;
ImageEnMView1.UnlockUpdate();

// Display to the full width of the control with the first column 100 pixels wide, the center column hidden, and the last column width auto-calculated
ImageEnMView1.LockUpdate();
ImageEnMView1.Style := iemsColumns;
ImageEnMView1.TextBlockWidth := -1;
ImageEnMView1.TextColumnWidths[ iemtpTop ] := 100;
ImageEnMView1.TextColumnWidths[ iemtpBottom ] := -1;
ImageEnMView1.TextColumnWidths[ iemtpInfo ] := 0;
ImageEnMView1.UnlockUpdate();

// Display to a total width of 300 with each column width auto-calculated
ImageEnMView1.LockUpdate();
ImageEnMView1.Style := iemsColumns;
ImageEnMView1.TextBlockWidth := 300;
ImageEnMView1.TextColumnWidths[ iemtpTop ] := -1;
ImageEnMView1.TextColumnWidths[ iemtpBottom ] := -1;
ImageEnMView1.TextColumnWidths[ iemtpInfo ] := -1;
ImageEnMView1.UnlockUpdate();

// Display to a total width of 300 with the first column 200 wide, and the remaining ones auto-calculated
ImageEnMView1.LockUpdate();
ImageEnMView1.Style := iemsColumns;
ImageEnMView1.TextBlockWidth := 300;
ImageEnMView1.TextColumnWidths[ iemtpTop ] := 200;
ImageEnMView1.TextColumnWidths[ iemtpBottom ] := -1;
ImageEnMView1.TextColumnWidths[ iemtpInfo ] := -1;
ImageEnMView1.UnlockUpdate();

// Display to a total width of 300 by setting specific widths for each column
ImageEnMView1.LockUpdate();
ImageEnMView1.Style := iemsColumns;
ImageEnMView1.TextBlockWidth := -1;
ImageEnMView1.TextColumnWidths[ iemtpTop ] := 200;
ImageEnMView1.TextColumnWidths[ iemtpBottom ] := 50;
ImageEnMView1.TextColumnWidths[ iemtpInfo ] := 50;
ImageEnMView1.UnlockUpdate();


Demo
| | |
| --- | --- |
| | \Demos\Multi\MViewStyles\MViewStyles.dpr |
See Also
-
TextBlockWidth
-
Style
-
TextColumns
---