Declaration
TIETextLayer = class(TIELayer);


Description
TImageEnView supports multiple layers, allowing the creation of a single image from multiple source images (which can be resized, rotated, moved, etc).
TIETextLayer is a descendent of
TIELayer
that displays text. Rich text is supported if
EnableFormatting
is true.
You can text image layers with code using
LayersAdd
or by user action by setting
MouseInteractLayers
to
mlCreateTextLayers
.
Review the
Layer Documentation
for a full description of layer support.
Demos
Examples
// Append a text layer
ImageEnView1.LayersAdd( ielkText );
TIETextLayer( ImageEnView1.CurrentLayer ).Text := 'This is a Text Layer';
TIETextLayer( ImageEnView1.CurrentLayer ).BorderColor := clBlack;
TIETextLayer( ImageEnView1.CurrentLayer ).BorderWidth := 1;
TIETextLayer( ImageEnView1.CurrentLayer ).FillColor := clWhite;
ImageEnView1.Update();





// Apply a "Paid" stamp to image
with ImageEnView1 do
begin
LayersAdd( 'PAID', 42, clRed, 'Arial Black', [fsBold] );
CurrentLayer.Rotate := 30;
TIETextLayer( CurrentLayer ).SizeToText();
CurrentLayer.PosX := IELayer_Pos_HCenter;
CurrentLayer.PosY := IELayer_Pos_VCenter;
LayersMergeAll();
end;

// Allow users to create and edit text layers
IEGlobalSettings().DefaultLayerText := 'Double-click to edit text';
ImageEnView1.MouseInteractLayers := [ mlCreateTextLayers, mlMoveLayers, mlResizeLayers ];


// Add a "Shape" layer with margins around text
ImageEnView1.LayersAdd( ielkText );
TIETextLayer( ImageEnView1.CurrentLayer ).Text := 'EXPLOSION!';
TIETextLayer( ImageEnView1.CurrentLayer ).Font.Style := [fsBold];
TIETextLayer( ImageEnView1.CurrentLayer ).BorderShape := iesExplosion;
TIETextLayer( ImageEnView1.CurrentLayer ).BorderColor := clBlack;
TIETextLayer( ImageEnView1.CurrentLayer ).BorderWidth := 1;
TIETextLayer( ImageEnView1.CurrentLayer ).FillColor := clRed;
TIETextLayer( ImageEnView1.CurrentLayer ).FillColor2 := clYellow;
TIETextLayer( ImageEnView1.CurrentLayer ).FillGradient := gpgVertCenter;
TIETextLayer( ImageEnView1.CurrentLayer ).Alignment := iejCenter;
TIETextLayer( ImageEnView1.CurrentLayer ).Layout := ielCenter;
TIETextLayer( ImageEnView1.CurrentLayer ).HorzMargin := 0.15;
TIETextLayer( ImageEnView1.CurrentLayer ).VertMargin := 0.25;
TIETextLayer( ImageEnView1.CurrentLayer ).SizeToText();
ImageEnView1.Update();






// Add a "Shape" layer with vertically offset text
ImageEnView1.LayersAdd( ielkText, 200, 200, 230, 200 );
ImageEnView1.CurrentLayer.AspectRatioLocked := True;
TIETextLayer( ImageEnView1.CurrentLayer ).BorderShape := iesHeart;
TIETextLayer( ImageEnView1.CurrentLayer ).BorderWidth := 0;
TIETextLayer( ImageEnView1.CurrentLayer ).Font.Style := [fsBold];
TIETextLayer( ImageEnView1.CurrentLayer ).Alignment := iejCenter;
TIETextLayer( ImageEnView1.CurrentLayer ).Layout := ielCenter;
TIETextLayer( ImageEnView1.CurrentLayer ).WordWrap := False;
TIETextLayer( ImageEnView1.CurrentLayer ).Text := 'I Heart Delphi';
TIETextLayer( ImageEnView1.CurrentLayer ).Font.Size := 22;
TIETextLayer( ImageEnView1.CurrentLayer ).TextOverflow := ieoShrink;
TIETextLayer( ImageEnView1.CurrentLayer ).TextOffsetY := -0.15;
ImageEnView1.CurrentLayer.BorderColor := clBlack;
ImageEnView1.CurrentLayer.FillColor := $004646FF;
ImageEnView1.Update();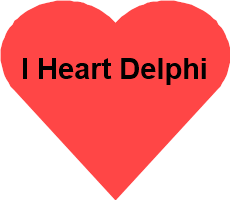 // Transparent text with rounded yellow border
ImageEnView1.LayersAdd( ielkText, 100, 100 );
txtLayer := TIETextLayer( ImageEnView1.CurrentLayer );
txtLayer.Font.Size := 54;
txtLayer.Font.Style := [fsBold];
txtLayer.Font.Color := clWhite;
txtLayer.TextStyling.BorderWidth := 3;
txtLayer.TextStyling.BorderColor := clYellow;
txtLayer.TextStyling.BorderLineJoin := ieljRound;
txtLayer.TextStyling.FillTransparency1 := 0; // 100% transparent
txtLayer.Text := 'ImageEn!';
txtLayer.SizeToText();
ImageEnView1.Update();






// Gradient text with border
ImageEnView1.LayersAdd( ielkText, 100, 100 );
txtLayer := TIETextLayer( ImageEnView1.CurrentLayer );
txtLayer.Font.Size := 54;
txtLayer.Font.Style := [fsBold];
txtLayer.Font.Color := clRed;
txtLayer.TextStyling.BorderWidth := 3;
txtLayer.TextStyling.BorderColor := clBlack;
txtLayer.TextStyling.FillColor2 := clYellow;
txtLayer.TextStyling.FillGradient := gpgVertical;
txtLayer.Text := 'ImageEn!';
txtLayer.SizeToText();
ImageEnView1.Update();



Methods and Properties
General
Text Editing
Style
Size and Position
Measurement

Unique to TIETextLayer
See Also
-
Layer Editing Overview
-
LayersAdd
-
LayersInsert
-
MouseInteractLayers
-
AdvancedDrawText
---