Declaration
TSaveImageEnDialog = class(TIECommonDialog);


Description
TSaveImageEnDialog is the same as the
TOpenImageEnDialog
, but with an "Advanced" button to display and modify advanced specific file format parameters.
Also you can hide the image preview (using
ExOptions
).
TSaveImageEnDialog should be attached to a
TImageEnIO
,
TImageEnMIO
,
TImageEnView
or
TImageEnMView
component to get/set
Params
properties (when the user clicks the "Advanced" button). If it is not attached it will function as a standard save dialog with a preview, but without the ability to modify image properties.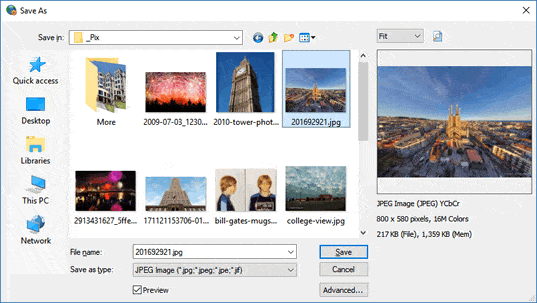 For more modern styled dialogs, enable
ModernDialog
(Also see
UseWindowsOpenSaveDialogs
):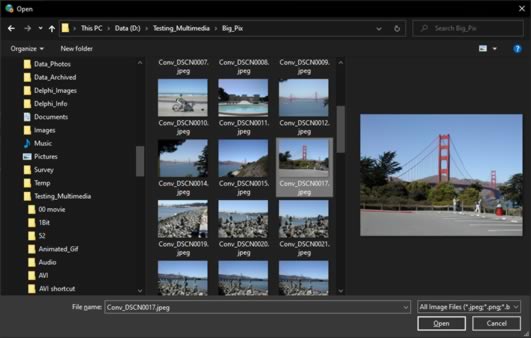 Notes:
- You can also display a Save dialog for a
TImageEnView
just by calling
ExecuteSaveDialog
or for a
TImageEnMView
by calling
ExecuteSaveDialog
- If your application is likely to be scaled (i.e. display is not 100%) it is recommended that you enable
ModernDialog
Example
// Prompt user to save a file in an ImageEnView
if SaveImageEnDialog1.Execute() then
ImageEnView1.IO.SaveToFile( SaveImageEnDialog1.FileName );


Methods and Properties
Events
See Also
- TSaveDialog
-
TOpenImageEnDialog
---