Optional DLLs for 32bit Applications:

Optional DLLs for 64bit Applications:
Note:
- All DLLs are optional and ImageEn can fully function as a stand-alone EXE. Though for a 64bit EXE, ielib64.dll (or ievision64.dll) is highly recommended
- If you are using IEVision.dll/IEVision64.dll you do NOT need ielib32.dll/ielib64.dll, because IEVision includes all code of ielib
- Other plug-ins are available such as
ImageMagick
(for wider format support):
www.imageen.com/download/
You must register the DLLs each time your application runs using
RegisterPlugIns
. It is recommended that ImageEn DLLs are installed to the same folder as your EXE.
More information is available on
distributing IEVision
.
ielib32.dll is an optional library for 32bit ImageEn applications, but it is recommended because it adds
- Better support for digital camera raw formats
- Optimized loading code for JPEG, PNG and JPEG2000, which is approximately 30% faster than the native Delphi code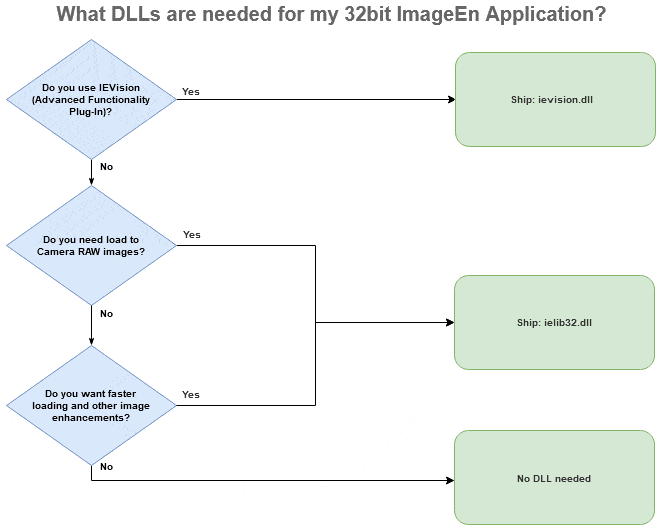 ielib32.dll is a highly recommended library for 64bit applications. If ielib64.dll is unavailable:
JPEG2000 images are unsupported

JPEG will fallback to loading/saving via WIC (Windows) and may not include some meta-data

PNG will fallback to loading/saving via WIC (Windows)

Camera RAW will fallback to loading via WIC (Windows), which does not support as many RAW formats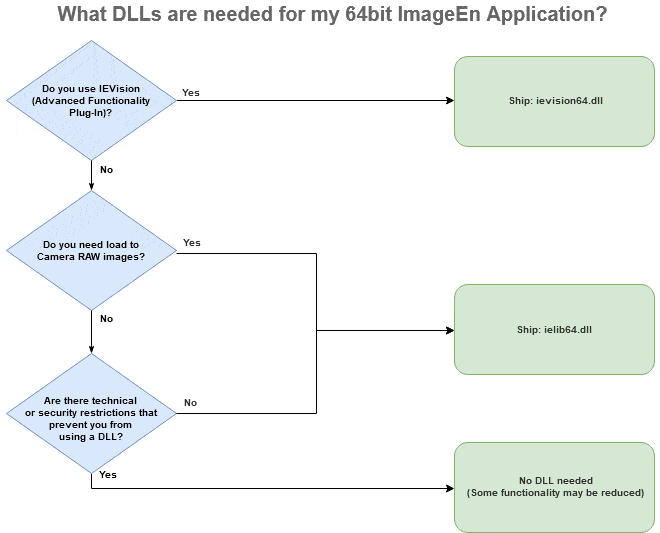 ImageEn supports native loading of the following formats: JPEG*, JPEG2000*, PNG*, GIF, BMP, TIFF, Icons, DICOM, PhotoShop, WMF, EMF, Cursors, AVI, WebP, PCX, DCX, Targa, PXM, Wireless BMP
* In 64bit applications a DLL is used
For JPEG, PNG, RAW and JPEG2000, there are multiple loading engines available: Native (to avoid using a DLL), DLL (for Speed) and WIC (fallback option). The engine can be specified using the following properties:
By default, they are as follows:
| Configuration | JPEG | PNG | Camera RAW | JPEG 2000 | Other Images |
| --- | --- | --- | --- | --- | --- |
| 32bit with DLL | DLL | DLL | DLL | DLL | Native |
| 32bit without DLL | Native | Native | WIC (not all formats supported) | Native | Native |
| 64bit with DLL | DLL | DLL | DLL | DLL | Native |
| 64bit without DLL | WIC | WIC | WIC (not all formats supported) | Native | Native |
Examples
// Force use of IELib DLL for improved performance
// ImageEn will attempt to load the DLL even if it's not in the EXE folder. If the DLL is not found or is outdated, an error will be raised
IEGlobalSettings().JPEGEngine := ieenDLL;
IEGlobalSettings().PNGEngine := ieenDLL;
IEGlobalSettings().JPEG2000Engine := ieenDLL;
IEGlobalSettings().CameraRawEngine := ieenDLL;

// Use IELib DLL if found in the EXE folder, otherwise fall back to Native or WIC
// Note: This is the default setting
IEGlobalSettings().JPEGEngine := ieenAuto;
IEGlobalSettings().PNGEngine := ieenAuto;
IEGlobalSettings().JPEG2000Engine := ieenAuto;
IEGlobalSettings().CameraRawEngine := ieenAuto;


Engine Performance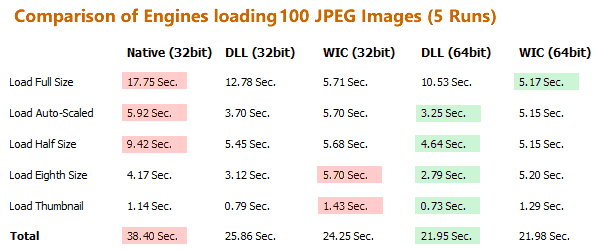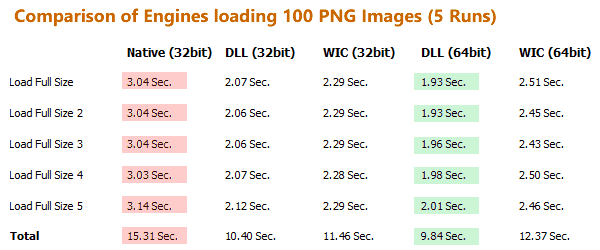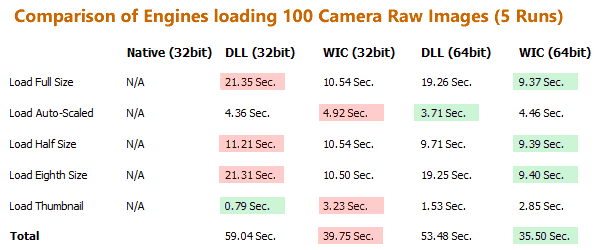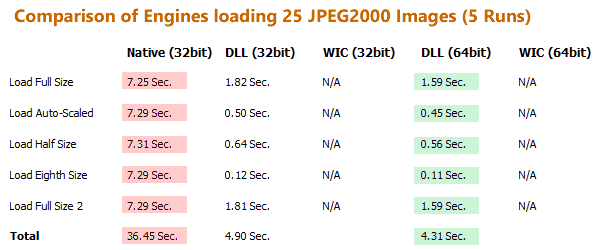 You should use the DLL version that matches your release of ImageEn (see
ImageEnVersion.IELibVersionStr
):
| Date | ImageEn Release | IELib/IEVision DLL Version |
| --- | --- | --- |
| 13 Dec. 2017 | 7.5.0 | 4.0.0 |
| 1 Jul. 2018 | 8.0.0 | 4.5.0 |
| 10 Jul. 2018 | 8.0.1 | 4.5.0 |
| 17 Sep. 2018 | 8.1.0 | 4.5.0 |
| 1 Oct. 2018 | 8.1.1 | 4.5.2 |
| 26 Nov. 2018 | 8.1.2 | 4.5.2 |
| 24 Feb. 2019 | 8.3.0 | 5.0.0 |
| 21 Apr. 2019 | 8.5.0 | 5.1.0 |
| 10 Jun. 2019 | 8.6.0 | 5.1.0 |
| 13 Sep. 2019 | 8.7.0 | 5.1.0 |
| 4 Nov. 2019 | 8.7.5 | 5.1.0 |
| 24 Nov. 2019 | 8.7.6 | 5.1.1 |
| 12 Apr. 2020 | 9.0.0 | 5.2.0 |
| 27 May 2020 | 9.1.0 | 5.3.0 |
| 20 Jun. 2020 | 9.1.1 | 5.3.0 |
| 25 Sep. 2020 | 9.2.0 | 5.4.0 |
| 17 Nov. 2020 | 9.2.6 | 5.4.1 |
| 20 Jan. 2021 | 9.3.0 | 5.4.1 |
| 17 Feb. 2021 | 9.3.1 | 5.4.2 |
| 20 Apr. 2021 | 10.0.0 | 5.5.0 |
| 15 May 2021 | 10.0.1 | 5.5.0 |
| 30 Jul. 2021 | 10.1.0 | 6.0.0 |
| 12 Sep. 2021 | 10.2.0 | 6.0.0 |
| 17 Dec. 2021 | 10.3.0 | 6.0.1 |
| 10 Mar. 2022 | 10.3.5 | 6.0.3 |
| 21 May 2022 | 11.0.0 | 6.0.3 |
| 1 Jun. 2022 | 11.0.1 | 6.0.3 |
| 28 Aug. 2022 | 11.3.0 | 6.0.4 |
| 26 Sep. 2022 | 11.4.0 | 6.0.4 |
| 28 Nov. 2022 | 11.4.5 | 6.0.4 |
| 5 Mar. 2023 | 12.0.0 | 7.0.0 |
| 26 Aug. 2023 | 12.5.0 | 7.1.0 |
| 15 Nov. 2023 | 13.0.0 | 8.0.0 |
See Also
-
RegisterPlugIns
-
ActivePlugIns
-
IELibAvailable
-
IEVision DLL
-
ImageEnVersion.IELibVersionStr
---