These are the optional DLLs for a 32bit EXE using ImageEn:


These are the optional DLLs for a 64bit EXE using ImageEn:
Notes:
- All DLLs are optional and ImageEn can fully function as a stand-alone EXE. Though for a 64bit EXE, ielib64.dll (or ievision64.dll) is highly recommended
- If you are using IEVision.dll/IEVision64.dll you do NOT need ielib32.dll/ielib64.dll, because IEVision includes all code of ielib
- Other plug-ins are available such as
ImageMagick
(for wider format support):
http://www.imageen.com/download/
You must register the DLLs each time your application runs using
RegisterPlugIns
. It is recommended that ImageEn DLLs are installed to the same folder as your EXE.
More information is available on
distributing IEVision
.
IELIB32.DLL
ielib32.dll is an optional library for 32bit ImageEn applications, but it is recommended because it adds
- Better support for digital camera raw formats
- Optimized loading code for JPEG, PNG and JPEG2000, which is approximately 30% faster than the native Delphi code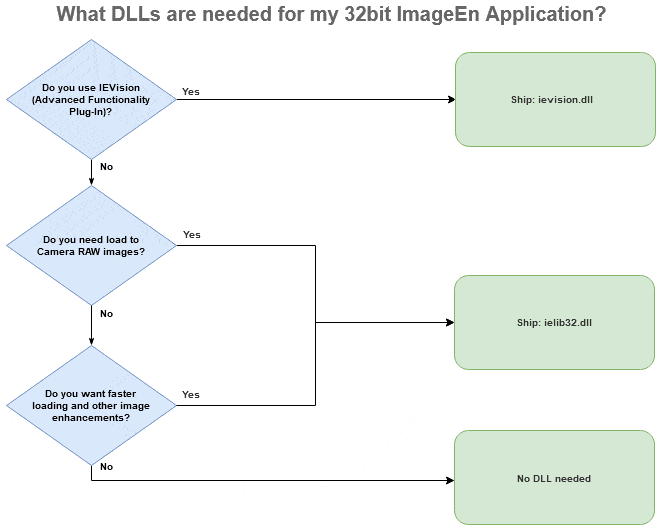 IELIB64.DLL
ielib32.dll is a highly recommended library for 64bit applications. If ielib64.dll is unavailable:
- JPEG2000 images are unsupported
- JPEG will fallback to loading/saving via WIC (Windows) and may not include some meta-data
- PNG will fallback to loading/saving via WIC (Windows)
- Camera RAW will fallback to loading via WIC (Windows), which does not support as many RAW formats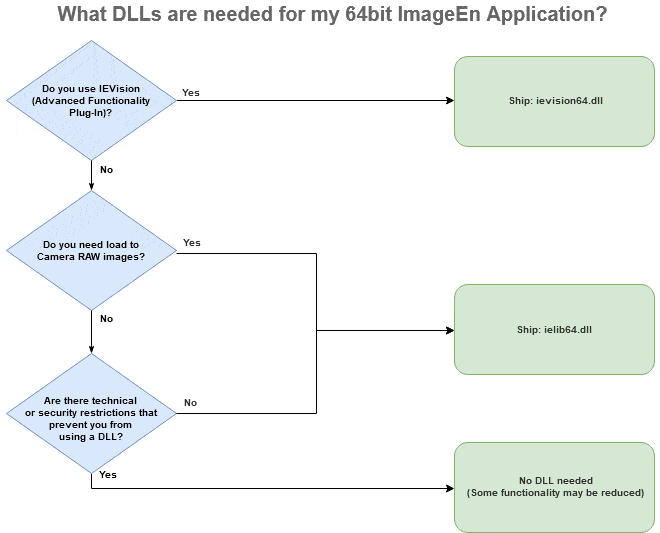 File Support Overview
The engine used to load image formats depends on the following properties:
-
JPEGEngine
-
PNGEngine
-
CameraRawEngine
-
JPEG2000Engine
By default, they are as follows:
| Configuration | JPEG | PNG | Camera RAW | Other Images |
| --- | --- | --- | --- | --- |
| 32bit with DLL | DLL | DLL | DLL | Native |
| 32bit without DLL | Native | Native | WIC (not all formats supported) | Native |
| 64bit with DLL | DLL | DLL | DLL | Native |
| 64bit without DLL | WIC | WIC | WIC (not all formats supported) | Native |
Examples
// Force use of IELib DLL for improved performance
// ImageEn will attempt to load the DLL even if it's not in the EXE folder. If the DLL isn't found or is an old version, an error will be raised
IEGlobalSettings().JPEGEngine := ieenDLL;
IEGlobalSettings().PNGEngine := ieenDLL;
IEGlobalSettings().JPEG2000Engine := ieenDLL;
IEGlobalSettings().CameraRawEngine := ieenDLL;

// Use IELib DLL if found in the EXE folder, otherwise fall back to Native or WIC
// Note: This is the default setting
IEGlobalSettings().JPEGEngine := ieenAuto;
IEGlobalSettings().PNGEngine := ieenAuto;
IEGlobalSettings().JPEG2000Engine := ieenAuto;
IEGlobalSettings().CameraRawEngine := ieenAuto;


Engine Performance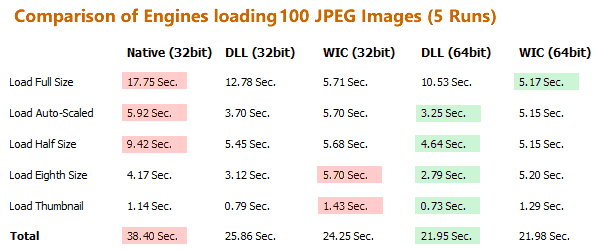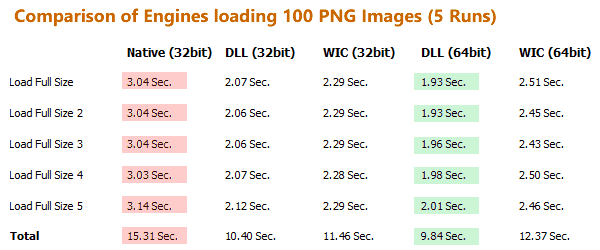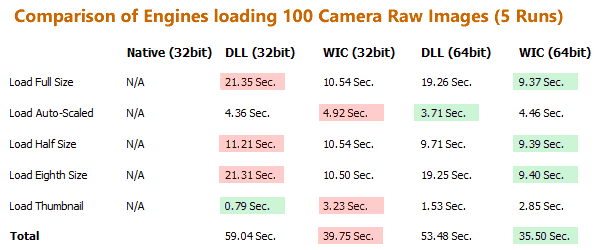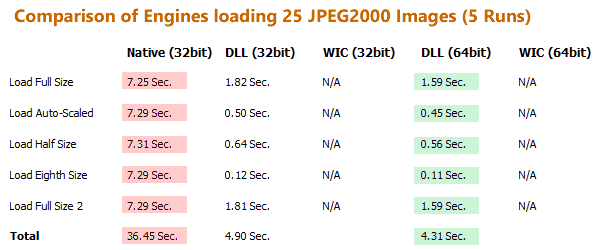 DLL Version History
You should use the DLL version that matches your release of ImageEn (see
ImageEnVersion.IELibVersionStr
):
| Date | ImageEn Release | IELib/IEVision DLL Version |
| --- | --- | --- |
| 13 Dec. 2017 | 7.5.0 | 4.0.0 |
| 1 Jul. 2018 | 8.0.0 | 4.5.0 |
| 10 Jul. 2018 | 8.0.1 | 4.5.0 |
| 17 Sep. 2018 | 8.1.0 | 4.5.0 |
| 1 Oct. 2018 | 8.1.1 | 4.5.2 |
| 26 Nov. 2018 | 8.1.2 | 4.5.2 |
| 24 Feb. 2019 | 8.3.0 | 5.0.0 |
| 21 Apr. 2019 | 8.5.0 | 5.1.0 |
| 10 Jun. 2019 | 8.6.0 | 5.1.0 |
| 13 Sep. 2019 | 8.7.0 | 5.1.0 |
| 4 Nov. 2019 | 8.7.5 | 5.1.0 |
| 24 Nov. 2019 | 8.7.6 | 5.1.1 |
| 12 Apr. 2020 | 9.0.0 | 5.2.0 |
| 27 May 2020 | 9.1.0 | 5.3.0 |
| 20 Jun. 2020 | 9.1.1 | 5.3.0 |
| 25 Sep. 2020 | 9.2.0 | 5.4.0 |
| 17 Nov. 2020 | 9.2.6 | 5.4.1 |
| 20 Jan. 2021 | 9.3.0 | 5.4.1 |
| 17 Feb. 2021 | 9.3.1 | 5.4.2 |
| 20 Apr. 2021 | 10.0.0 | 5.5.0 |
| 15 May 2021 | 10.0.1 | 5.5.0 |
| 30 Jul. 2021 | 10.1.0 | 6.0.0 |
| 12 Sep. 2021 | 10.2.0 | 6.0.0 |
See Also
-
RegisterPlugIns
-
ActivePlugIns
-
IELibAvailable
-
IEVision DLL
-
ImageEnVersion.IELibVersionStr
---