ImageEn includes a large set of actions for ImageEnVect, ImageEnView, ImageEnView Layers and ImageEnMView components to allow you to rapidly develop your UI (and instantly localize in twenty-five languages).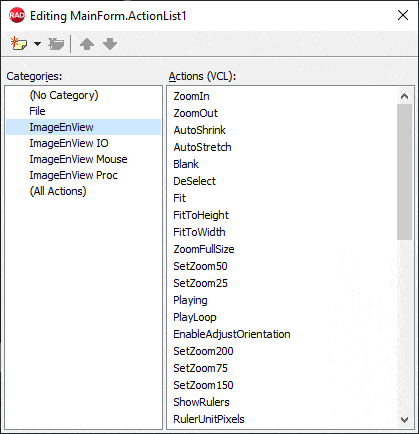 To use actions:
1. Add a TActionList component to your form
2. Double-click your TActionList to open it
3. Select "New Standard Action"
4. Scroll down to the ImageEnVect actions, select the ones you require and click OK
5. Assign the actions to menu items and buttons
Demo
Note:
-
You must set the ImageEnVect property of the actions
- The
ActionType
property advises whether the control only performs a function (ieaButton), toggles a state (ieaCheckbox), or changes between multiple states (ieaRadioButton)
- You can set
MsgLanguage
to localize the actions
- Some actions include shortcuts. The VCL does not allow these to be cleared at design-time. Disable them at run-time as follows: ImageEnVect1PromptToOpen1.ShortCut := 0;
- See the
list of the default ImageIndexes
if you are planning to add graphics to your actions
General Actions
IO Actions
Object Actions
Mouse Actions
---